The Arena is where players can battle others. Arena energy is used to fight.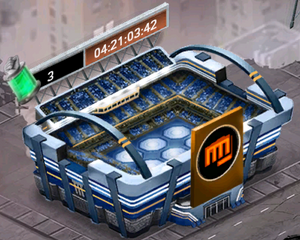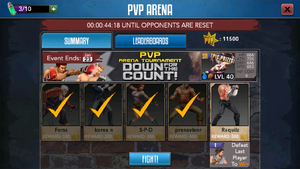 Arena energy (the green vial with a fist) is energy that maxes out at 10. It is spent at the arena in fighting other players. You are given 5 people who must be battled in order. Once the fifth is defeated you are rewarded with a fighter or a training booster. It costs 1 energy to battle first opponent, 2 to battle second etc.  If you run out of energy you can use cash to purchase more. Each regenerates every 20 minutes.
Tournaments
Edit
Weekly tournaments are held at the pvp arena. They last for one week and prizes are given out for where people place. There are rewards for each tier. 
#
Name
Start Date
End Date
Gold Medal Reward
Banner
1
Down for the Count
January 16 2014
January 23 2014
Medal 1: 3x Big Rig Keys, 25x Cash, 4x Jess
2
Wrestling in a Winter Wonderland
January 24 2014
February 6 2014
Medal 1: 3x Big Rig Keys, 30x Cash, 1x Morgana
3
The Fist of the Tiger
February 7 2014
February 13 2014
Medal 1: 3x Big Rig Keys, 30x Cash, 4x Scar

4
Romantic Rampage
February 14 2014
February 20 2014
Medal 1: 3x Big Rig Keys, 30x Cash, 4x Jammin' Jimmy

5

February 21 2014

February 27 2014
Medal 1: 3x Big Rig Keys, 30x Cash, 4x Cory

6
Tournament of Champions
February 28 2014
March 6 2014
Medal 1: 3x Big Rig Keys, 30x Cash, 2x Venatoro

7
No Holds Barred Brawl
March 7 2014
March 13 2014
Medal 1: 3x Big Rig Keys, 25x Cash, 4x Venatoro

8
St. Patrick's Day Punchout
March 14 2014
March 19 2014
Medal 1: 3x Big Rig Keys, 25x Cash, 4x Silah

9
Contest of Conquerers
March 20 2014
March 27 2014
Medal 1: 3x Big Rig Keys, 30x Cash, 4x Silah

10
Confrontation of Gladiators
March 28 2014
April 3 2014
Medal 1: 3x Big Rig Keys, 30x Cash, 4x Veronika

11
Tournament of Fools
April 3 2014
April 10 2014

Medal 1: 5x Big Rig Keys, 40x Cash, 8x Nobuo

Medal 2: 3x Big Rig Keys, 30x Cash, 4x Nobuo

12
Hyperion's Tournament
April 10 2014
April 17 2014

Medal 1: 5x Big Rig Keys, 40x Cash, 8x Hanako

Medal 2: 3x Big Rig Keys, 30x Cash, 4x Hanako

13
On the Hunt
April 17 2014
April 24 2014
Medal 1: 5x Big Rig Keys, 40x Cash, 8x Chad

14
Royal Rumble
April 24 2014
May 1 2014
Medal 1: 5x Big Rig Keys, 40x Cash, 8x Regal

15
Sudden Death Throwdown
May 1 2014
May 8 2014
Medal 1: 5x Big Rig Keys, 40x Cash, 8x Kieran

16
Master's Melee
May 8 2014
May 15 2014
Medal 1: 5x Big Rig Keys, 40x Cash, 8x Ryota

17
Thunderous Throwdown
May 15 2014
May 22 2014
Medal 1: 5x Big Rig Keys, 40x Cash, 8x Oni

18
Veteran's Vendetta
May 22 2014
May 29 2014
Medal 1: 5x Big Rig Keys, 40x Cash, 8x Tasha

19
Tap Out Tournament
May 29 2014
June 5 2014
Medal 1: 5x Big Rig Keys, 40x Cash, 8x Gage

20
Fisticuffs Fracas
June 6 2014
June 12 2014
Medal 1: 5x Big Rig Keys, 40x Cash, 8x William

21
Blindfolded Battle Royal
June 13 2014
June 19 2014
Medal 1: 5x Big Rig Keys, 40x Cash, 8x Jin

22
Rookie Rumble
June 20 2014
June 26 2014
Medal 1: 5x Big Rig Keys, 40x Cash, 8x Edge

23
Attack of the Assassins
June 27 2014
July 3 2014
Medal 1: 10x Big Rig Keys, 100x Cash, 10x Lightning Training Booster  8x Corvina

24
Freedom Fracas
July 4 2014
July 11 2014
Medal 1: 10x Big Rig Keys, 10x Water Training Booster, 100x Cash, 8x Celine

25
Metal Melee
July 12 2014
July 18 2014

Medal 1: 10x Big Rig Keys, 100x Cash, 10x Shadow Training Booster  8x Davis

26
Bout of the Kickboxers
July 19 2014 
July 25 2014
Medal 1: 10x Big Rig Keys, 100x Cash, 10x Earth Training Booster  8x Gena

27
Sensei's Struggle
July 26 2014
August 1 2014
Medal 1: 10x Big Rig Keys, 100x Cash, 10x Fire Training Booster  8x Naoki

28
TKO Tournament
August 2 2014
August 7 2014
Medal 1: 10x Big Rig Keys, 100x Cash, 10x Water Training Booster  8x Cody

29
Killer's Quarrel
August 8 2014
August 14 2014
Medal 1: 10x Big Rig Keys, 100x Cash, 10x Lightning Training Booster  8x Sophie

30
Infinity Fighter
August 15 2014
August 21 2014
Medal 1: 10x Big Rig Keys, 100x Cash, 10x Water Training Booster  8x Unknown Ultra Rare

31
War of Rivals
August 22 2014
August 28 2014
Medal 1: 10x Big Rig Keys, 100x Cash, 10x Earth Training Booster  8x Adyne

32
Soul Survivor
August 29 2014
September 4 2014
Medal 1: 10x Big Rig Keys, 100x Cash, 10x Shadow Training Booster  8x Felicia

33
Elements of Fury
September 5 2014
September 11 2014
Medal 1: 10x Big Rig Keys, 100x Cash, 10x Fire Training Booster  8x Justin

34
Ring Out Rumble
September 12 2014
September 18 2014
Medal 1: 10x Big Rig Keys, 100x Cash, 10x Water Training Booster  8x Kinkade

35
Sword Fighters Strife
September 19 2014
September 25 2014
Medal 1: 10x Big Rig Keys, 100x Cash, 10x Lightning Training Booster  8x Jabir

36
Dragon's Doubles
September 24 2014
September 30 2014
Medal 1: 10x Big Rig Keys, 100x Cash, 10x Earth Training Booster  8x Unknown UR

37
Strike Of The Gentle Fist
September 31 2014
October 9 2014
Medal 1: 10x Big Rig Keys, 100x Cash, 10x Shadow Training Booster  8x Unknown UR

38
Sparring With Spears
October 10 2014
October 16 2014
Medal 1: 10x Big Rig Keys, 100x Cash, 10x Earth Training Booster  8x Unknown UR